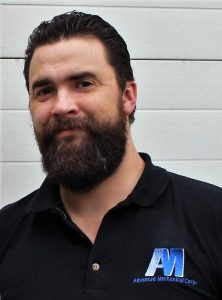 As Estimating Manager of Advanced Mechanical Corp. (AMC) my primary goal is to provide Customers with thorough, high-quality estimates. A well thought-out Estimate ensures the best possible price for the Customer. This ties directly into AMC's strategic goal of providing Customers with fair pricing, outstanding safety (AMC's EMR .821), Principal Management, and a commitment to meeting or exceeding project goals.
I encourage and foster our estimating team to work together listening and applying input from our Project Management and field Supervisors on all our Estimates. The collaboration of our Staff helps to achieve the most reliable Estimates to ensure a successful, profitable job for AMC, as well as provide our customers with the best pricing. I have successfully bid projects from $10k to $3.2M.
Whether its budgets, wet side bids, mechanical bids, large or small bids, I stand behind our commitment of excellence and to our mantra of "Let's get the Job done".
OSHA 30-Hour Occupational Safety and Health Training Certification
BA, William Paterson University
Volunteer work: Religious Education Confirmation Teacher, Dog Training